Lowell Higley on 4 Jul 2017 08:53:30 -0700

[Date Prev] [Date Next] [Thread Prev] [Thread Next] [Date Index] [Thread Index]
Re: [PLUG] Firewall choices for a small software development business
From: Lowell Higley <higleylh@gmail.com>
To: "Philadelphia Linux User's Group Discussion List" <plug@lists.phillylinux.org>
Subject: Re: [PLUG] Firewall choices for a small software development business
Date: Tue, 4 Jul 2017 08:53:23 -0700
Dkim-signature: v=1; a=rsa-sha256; c=relaxed/relaxed; d=gmail.com; s=20161025; h=mime-version:in-reply-to:references:from:date:message-id:subject:to; bh=cxfNzHLzQhR4dcf55eetQgw/QwWfo/JrEhQ3CFOYpKU=; b=GMEcqsRYypTjNqS8RZ0ODVH4H5HkTkztNrhOI/8D176UN77wUCpf2RwlTW2Ce7mP8V bHAhiVFHTp9NN0UtGvCUDA7vyGxayG6Q5t42TPE83R4tqawq5/htPF9Kw/GG+wISpDjF 67HmeR+xmhLO6ipJ6y2VWYPudS+f6LV/Q5OC8FYCld4vztHciNLWYgMxRdXVKQMjw2Os u19aK1Peoq9icWn00yB98XC8UXcTvINMjnEmPabW5ugLT+2zgKct2bSbic5APVA3esr1 lQe7EQVsq1WN0/g7/IZDkdc9HzuW3LWRea1XWbXDkgAuaVzpv5YIXTL1EpUYtytqBxmB UvwA==
Reply-to: Philadelphia Linux User's Group Discussion List <plug@lists.phillylinux.org>
Sender: "plug" <plug-bounces@lists.phillylinux.org>
---
>> I have one. The only issue I have with it is that it only supports IPSec for VPN
That depends.  If you want to setup a VPN client, such as to PIA, then the controller UI only supports PTPP.  However, you can ssh in and setup openvpn, etc. Site to site supports openvpn and IPsec in the controller UI. Remote user supports L2TP in the UI. (screenshots below.) As they build out the UI you will see more options added. Again, you can go to the cli today and setup other VPN protocols if you wish.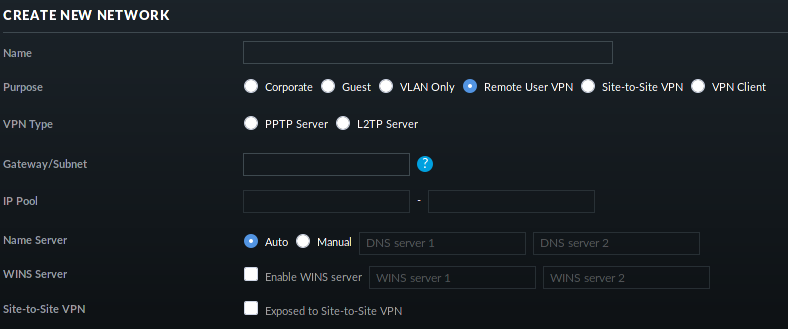 >>  if I recaKk correctly, you need a separate RADIUS server to make it work.
You can configure a radius server for remote clients, I think, but I've never done that. Haven't needed the functionality yet. Depends on the type of VPN tunnel you setup. I have a PTPP VPN setup to PIA and don't need/have a radius server.  I've been experimenting with openvpn as well and it also does not require radius.
Also, full disclosure I am running the beta version of the controller software, v5.6.7, so all these features/options may not be available in the GA software.
___________________________________________________________________________
Philadelphia Linux Users Group         --        http://www.phillylinux.org
Announcements - http://lists.phillylinux.org/mailman/listinfo/plug-announce
General Discussion  --   http://lists.phillylinux.org/mailman/listinfo/plug

---